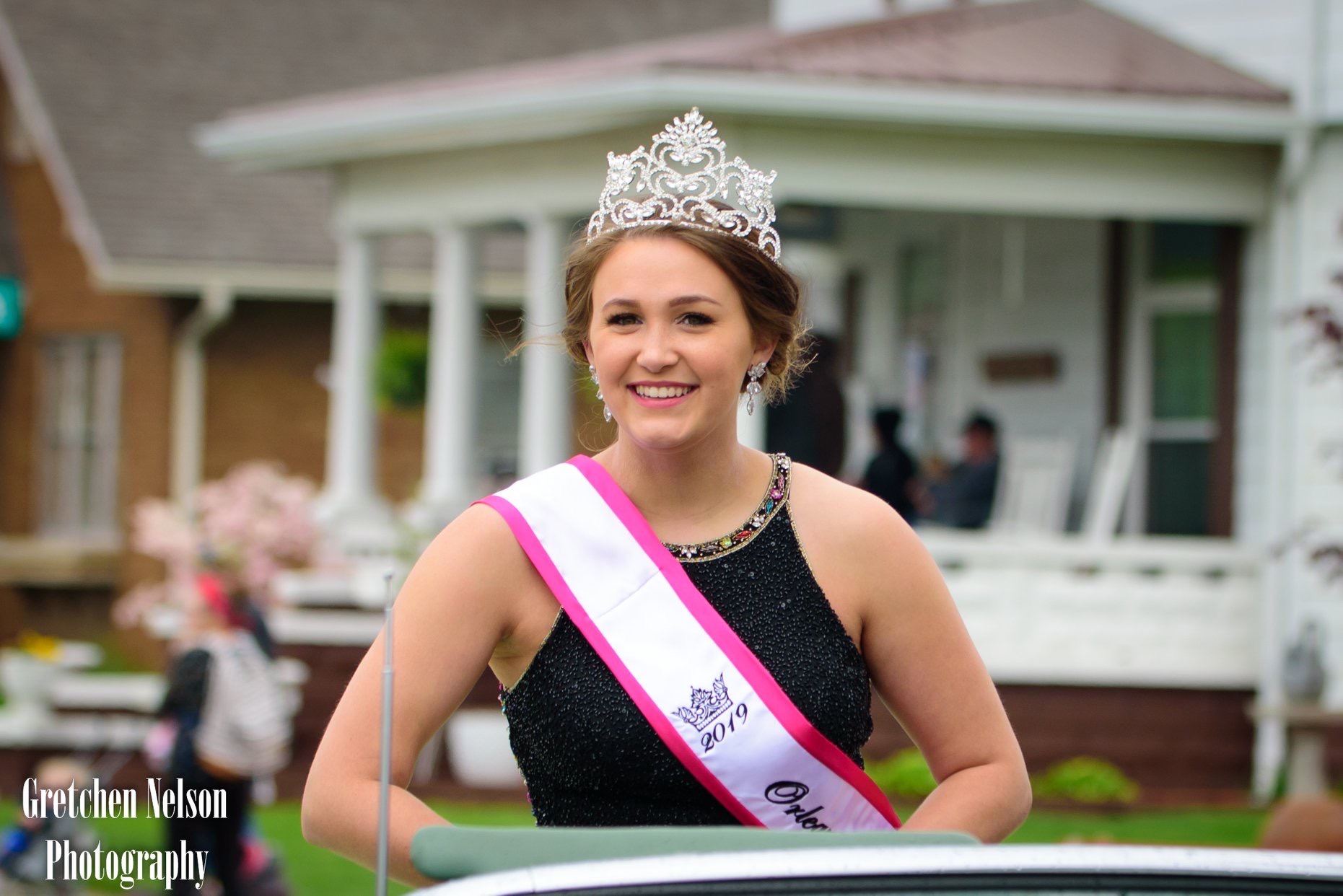 Friday, April 17
All Day Town-Wide Yard Sale
Saturday, April 18
All Day Town-Wide Yard Sale
Classic Car Show-Congress Square
Register at 10 a.m.  Awards at 2:20 pm
Trophies for all classes, 50/50 Drawing
$500 – 1st Place
9 am – Dogwood Baby Contest – Orleans High School
5 pm – 52nd Annual Dogwood Little Miss, Jr. Miss Queen and Queen Crowning – Orleans        Elementary
Monday, April 20
5 pm – Carnival opens – Congress Square
Monday, April 20-6 p.m. MEET THE AUTHOR-Philip Gulley-Orleans Christian Church
*Sponsored by Orleans Public Library
*Brady Amusements sponsored by Orleans American Legion Post #69
*O.B.R. Band Parents Food Stand Opens Downtown
Tuesday, April 21
5-10 pm – Carnival – Congress Square – Bracelet Night
6 pm – Phi Beta Psi Styles & Salads – Orleans Elementary School Cafeteria
6 pm – Mock Accident Demonstration – Congress Square
Wednesday, April 22 
Dogwood Headquarters – Chamber Office
Vendors Arts & Crafts – Congress Square
4:15 pm – OES/OHS Choir Performs – Main Stage
4-7 pm – Student Art Reception – Orleans Public Library
5 pm – Orleans Elementary/Orleans High Choirs Perform – Main Stage
5-10 pm Carnival – Congress Square – Bracelet Night
6 pm – Gospel in the Park With The Breeding Sisters and Worth the Journey – Main Stage
*Sponsored by Orleans Area Ministerial Association
Thursday, April 23
Dogwood Headquarters – Chamber Office
Vendors Arts & Crafts – Congress Square
11 am – 8 pm – Silent Auction – OCC Unity Hall
1 pm – 8 pm – Quilt Show – OCC Unity Hall
11 am – 8 pm – Dogwood Art Walk-OCC Unity Hall lobby
10 am – 6 pm – Photo Contest Display-Orleans Public Library
10 am – 6 pm – Student Art Display – Orleans Public Library
5 -10 pm – Carnival-Congress Square – Bracelet Night
Friday, April 24
Dogwood Headquarters – Chamber office
Vendors Arts & Crafts – Congress Square
11 am – 8 pm – Silent Auction – OCC Unity Hall
1 pm – 8 pm – Quilt Show – OCC Unity Hall
11 am – 8 pm – Dogwood Art Walk – OCC Unity Hall lobby
10 am – 5 pm – Photo Contest – Orleans Public Library
10 am – 5 pm – Student Art Display – Orleans Public Library
5 -7 pm – UMC Ham & Bean Supper – Orleans Elementary
5-10 pm – Carnival – Congress Square
5:30 pm – Pet Parade – Congress Square
7 pm – Sean Steele & Friends – Main Stage
7 pm – Murder Mystery Dinner Show – Orleans Wesleyan Fellowship Hall
($12 per person)
*sponsored by the Orange County Players
Saturday, April 25
Dogwood Headquarters – Chamber office
Vendors Arts & Crafts – Congress Square
9 am – 4 pm Silent Auction – OCC Unity Hall
9 am – 1 pm Quilt Show – OCC Unity Hall
10 am – 1 pm Student Art Display – Orleans Public Library
10 am – 1 pm Photo Contest Display – Orleans Public Library
10 am – Kids Chalk Art Walk – Congress Square
11 am – Orleans Kiwanis Creekbank Potatoes – Carroll Corner (S.E. of Square)
12 noon – 10 pm Carnival – Congress Square
2 pm – 52nd Annual Dogwood Parade – Historic Maple Street (SR 37)
Theme:  Dogwood Festival 2020: Visions of Color, Life, and Art!
Grand Marshall:  Mr. Gary McClintic of Orleans Community Schools
7 pm – Murder Mystery Dinner Show – Orleans Wesleyan Fellowship Hall
($12 per person)
*sponsored by the Orange County Players
Sunday, April 26​
7 pm – Murder Mystery Dinner Show – Orleans Wesleyan Fellowship Hall ($12 per person)
Weather Note: Some events subject to change or cancellation due to weather.
The Main Stage entertainment may be moved to Orleans Elementary, SR 337 E in the event of bad weather.
*In the event of severe weather, or any other type of emergency, the Orleans Christian Church and Orleans United Methodist Church are designated shelter areas during festival week.
First Aid – Orleans 1st Responders (South side square).
Dogwood Headquarters, festival, area visitor info etc. (Orleans Chamber, north side of square)
---
CHAIRPERSONS
---
Parade                                                     Randy Clark                         (812) 865-0340
Town Wide Yard Sale                         Neva Stroud                        (812) 865-3242
Queen/Little Miss Dogwood           Ashley Knight                      (812) 653-0255
Baby Contest                                        Hannah Carter                    (812) 797-7777
Pet Parade                                             Dr. Kelly Kirk                        (812) 865-2329
Phi Beta Psi Styles and Salads       Jean Holt                             (812) 865-3209
Student Art Show                               Dr. Leah Morgan                 (812) 865-2688
Dogwood Photo Contest                 Katlin Phillips                      (812) 653-8877
Carnival                                                   Ron Taylor                           (812) 278-4087
UMC Ham & Bean Supper                Janie Baker                         (812) 865-2539
Vendors- Arts & Crafts                        Laken Randolph                 (812) 620-6532
Art Walk                                                  Gwen Ellison                        (812) 865-5841
Gospel Night                                         Mike Hester                            (812) 223-0808
Dogwood Pedal                                   Richard Grace                     (812) 276-9256
Silent Auction                                       Lesley Padgett                   (812) 653-7593
————————————————-Co-Chair Debbie Stone
————————————————-Co-Chair Jon Stalker
Quilt Show                                           Jean Holt                                 (812) 865-3209
Band Parents Food Stand               Felicia Hager                          (812) 653-5518
Mystery Dinner Theater                   Richard Vandagrifft              (812) 653-3035
Car Show                                              Mike Harkness                        (812) 653-1648